Walt Flood Realty Presents
1350 ALA MOANA CONDOMINIUM
(Note: at 56bps, it will take up to 2 minutes to load this page, and you will see 12 pictures of the exterior
and the interior of the 1350 Ala Moana Condo.)
1350 Ala Moana Condominium - 34 stories on 1.75 acres of land.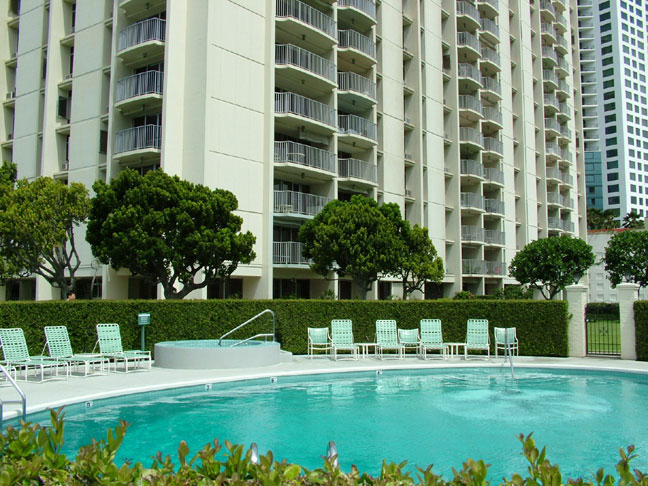 View of the Pool, Spa (Jacuzzi) & 1350 Ala Moana Condo.
View of the Pool and the Spa (Jacuzzi).
View of the Pool, the Spa (Jacuzzi) and the Nauru Condo.
View of the Front Yard, the Nauru Condo, and 1350 Ala Moana to the right.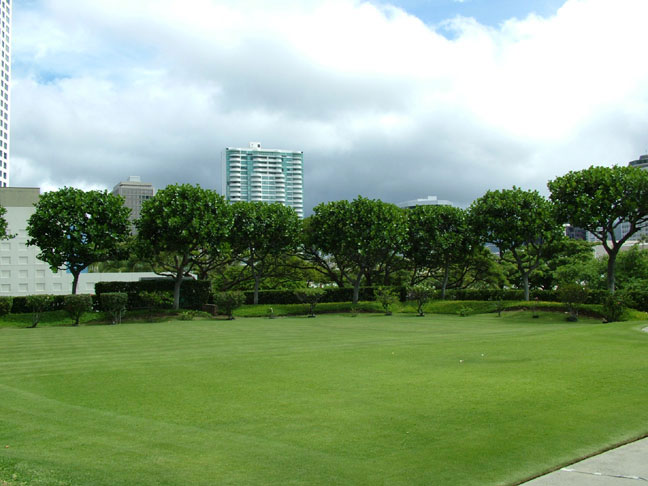 View of the Side Yard, with a putting green, at 1350 Ala Moana.
The Fitness Room, with weights and cardo machines at 1350 Ala Moana.
View to the Garden and the BBQ areas.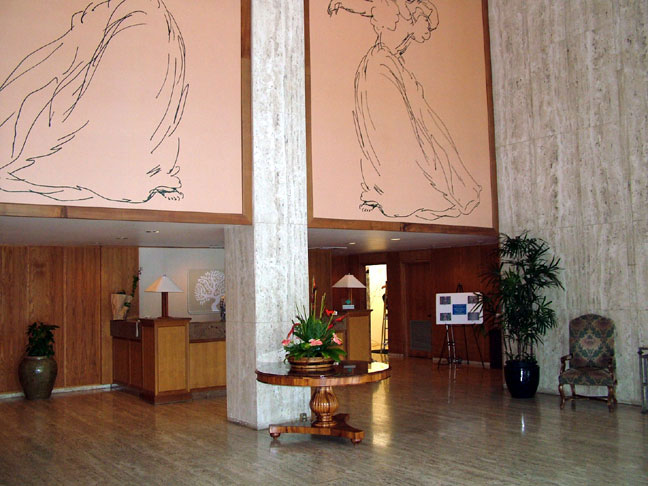 The Front Lobby and the Reception Desk, at 1350 Ala Moana.
The Guest Waiting Room in the Lobby, at 1350 Ala Moana.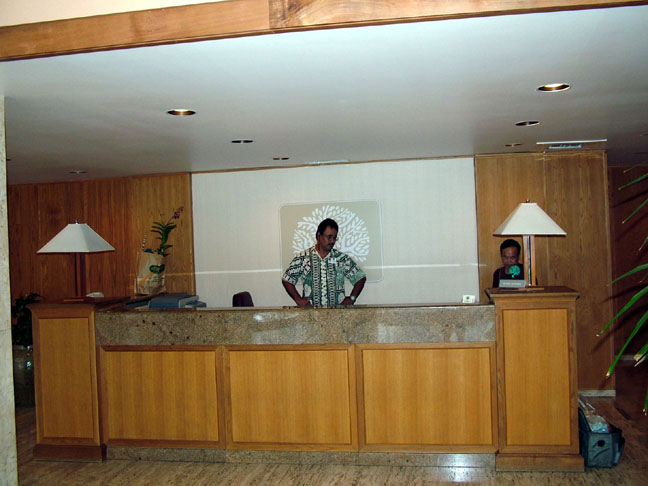 The Reception Desk, with the Security Guard, at 1350 Ala Moana.
To see pictures of condo unit For Sale #409, click here Second Page
Go: Home View: PhotoMap of Waikiki Go to the: Pictures of Condos
EQUAL HOUSING NOTICE: All the housing units advertised herein are subject to the Federal Fair Housing Act which makes it illegal to advertise any preference, limitations, or discrimination because of race, color, religion, sex or handicap, familial state, or national origin, or any such preference limitations or discrimination. Walt Flood Realty will not knowingly accept any property for management which is in violation of the law. All persons are hereby informed that all dwellings advertised herein are available on an equal opportunity basis.
All information contained herein is obtained from sources deemed reliable, no representation is made as to the accuracy thereof, & it is submitted subject to errors, omissions, changes & withdrawals without notice.
---
Walt Flood Realty * Phone: 808-922-1659 * Fax: 1-877-358-5637 (Toll Free)
1750 Kalakaua Ave., Suite 103, Honolulu, HI 96826-3795
E-mail: WaltFlood[at]hawaii.rr.com
---
Privacy Policy/Terms of Service
Copyright 2000, 2001, 2002, 2003, 2004, 2005, 2006.
You must obtain written permission to use any content, including pictures, on these pages.