WALT FLOOD REALTY
"FOR SALE"
ATKINSON TOWERS

Condominium Apartment #1101
Two Bedrooms & One Bathroom
"Open House - Sunday 2:00pm to 5:00pm"
"419A Atkinson Dr., Honolulu, HI 96814"
Asking Price: $439,000.00 (Fee Simple)
MLS: 2905526
This 15 story high rise building is a block to the Hawaii State Convention Center; across the street from the Ala Moana Hotel; behind Yacht Harbor Towers and the YMCA complex; one block to the Ala Moana Shopping Center, steps to Ala Moana Beach Park (Magic Island), and at the entrance to Waikiki.
The 11th floor apartment offers a large interior (open) Lanai with partial views to the Pacific Ocean, Boat Harbour, Ala Wai Canal, Mountains, and to EWA/City.
The apartment is partly furnished (appliances), and has been totally renovated/upgraded. There is a new full-size Washer and a Dryer, cermatic tile in the entry way, wall-to-wall carpets, and new wall/window treatments, along with new cabinets, counter tops, tile shower, and closets/doors.
Note: A third bedroom could be installed in the area where the dining table is located, and/or the Lanai could be enclosed for more interior space.
Atkinson Towers is a secured entry building, with two secured elevators, and a Maintenance Manager. The project has a pool, building meeting room, individual storage/lockers, and cable TV. No Pets are allowed, with the exception of certified seeing-eye dogs.
Conventional Financing is available, under certain terms & conditions (ask the Realtor).
---
Interior Area: 961 sq. ft. / Lanai 87 sq.ft. / Total Area: 1,048 sq.ft.
Maintenance Fee: $483. / Parking Lot Lease Rent: $58.
Total Monthly Fees/Charges: $541. (NOT including electric service)
Bedrooms: Two / Bathrooms: One / Covered Parking Stall #42
---
Atkinson Towers Unit #1101
Atkinson Towers from the front side, towards Ala Wai Canal
Ala Wai Canal and Waikiki Buildings, from the AT #1101 Lanai.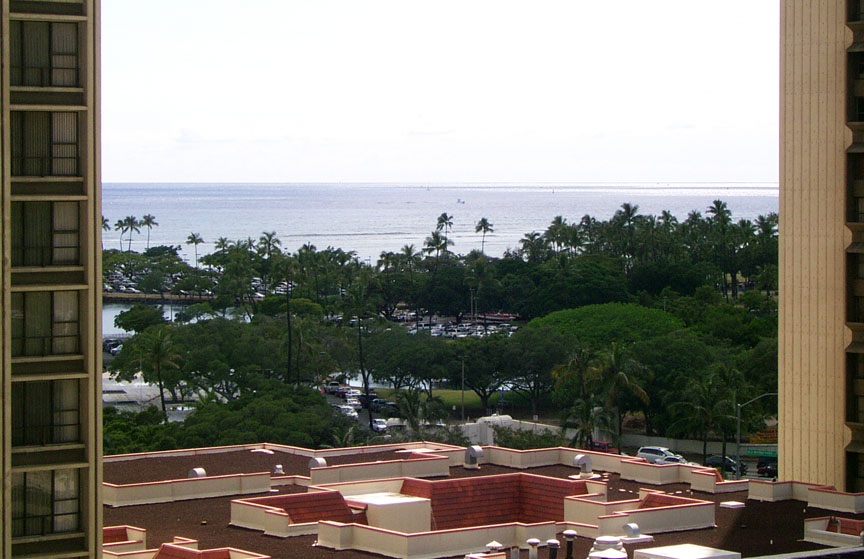 View of the Ocean, between Yacht Harbor Towers, from the AT#1101 Lanai.
View over the YMCA, to Ala Moana and EWA.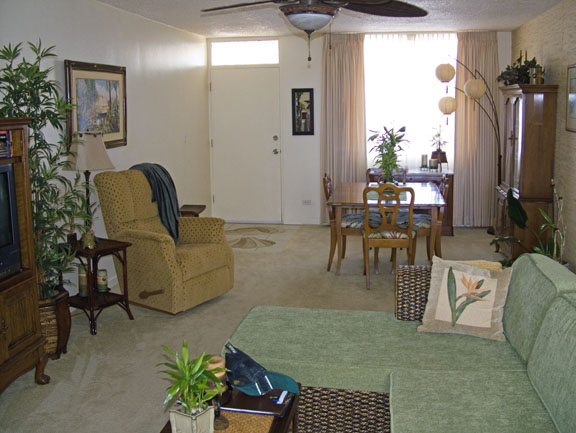 Living Room to the Dining area, or this space can be used for the 3rd Bedroom.
Living room to the Master Bedroom, the Washer/Dryer, and to the Kitchen.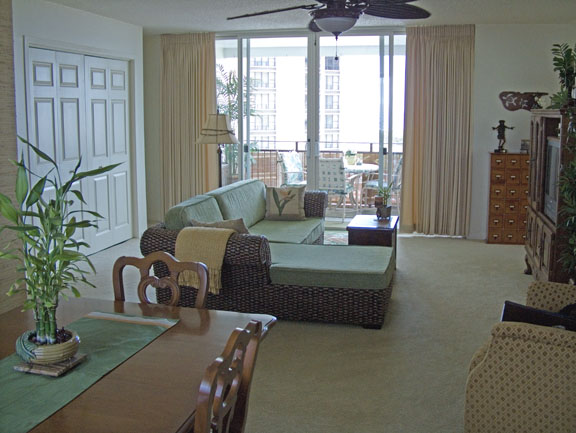 Dining area to the Living Room to the Lanai.
Living Room to the open door to the Second Bedroom.
Master Bedroom, with Queen Size bed.
Second Bedroom, or Office/Den.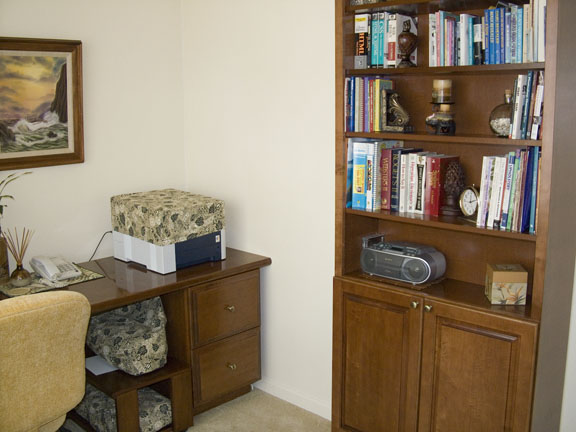 Second Bedroom, or Office/Den.
Bathroom.
Bathroom.
Bathroom.
Kitchen Stove and Oven.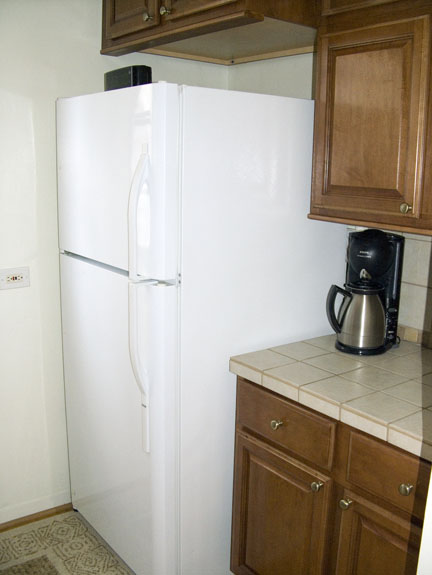 Kitchen Refrigerator - large size.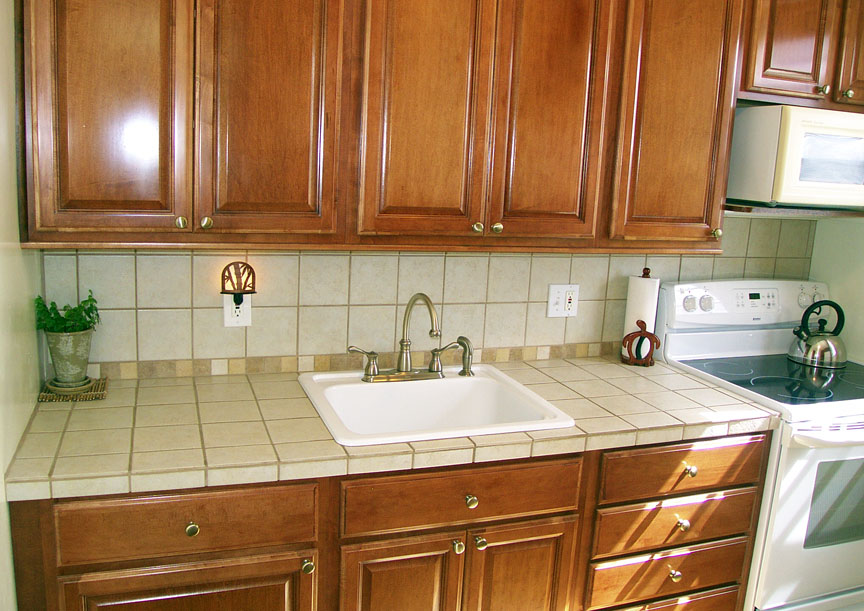 Kitchen Counter and Cabinets.
Kitchen view to the Ocean.
Open Lanai, looking towards the Ala Wai Canal.
Open Lanai to the Storage Room.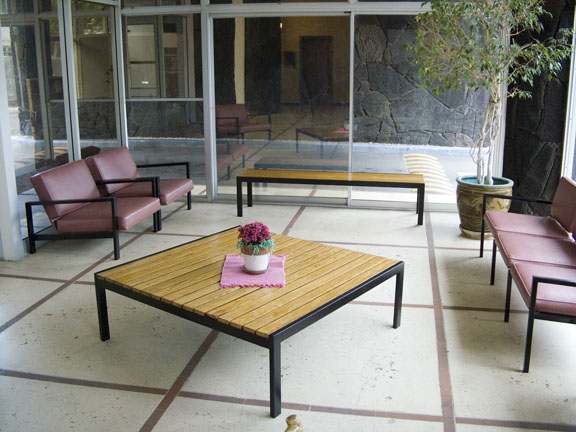 Atkinson Towers Lobby Meeting area.
Atkinson Towers Lobby - Mail Boxes, to the Elevators.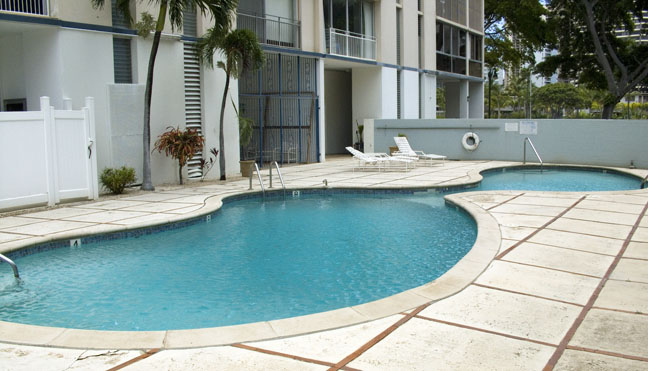 Atkinson Towers Swimming Pool and Patio Deck.
---
Click for More information at the website for Walt Flood Realty
---
Your Host: Walter Flood, Realtor, PB
Walt Flood Realty * Phone: 808-922-1659 * Fax: 1-866-912-8984 (Toll Free)
2092 Kuhio Ave., #1903, Honolulu, HI 96815-2134
E-mail: WaltFlood@hawaii.rr.com * Website: WaltFloodRealty.com/
---
All information contained herein is obtained from sources deemed reliable, no representation is made as to the accuracy thereof, & it is submitted subject to errors, omissions, changes & withdrawals without notice.