Atkinson Towers Unit #1102 - Page Two
(Note: at 56bps, it will take up to a minute to load this page, and you will see pictures of the exterior
and the interior of the Atkinson Towers project.)
Atkinson Towers, as it appeared in 1961.
Swimming Pool - not heated.
Lanai, with the Dryer in the closet.
Kitchen Counter, with Dishwasher, and Stove Top/Oven.
Kitchen, with large Frig, Dishwasher, and clothes Washer.
Master Bedroom.
Master Bedroom, with Closets.
Master Bedroom, with door and open area.
Bathroom.
Parking Lot, with Stall #80.
View to the Mountains, from the Living Room, outside walkway.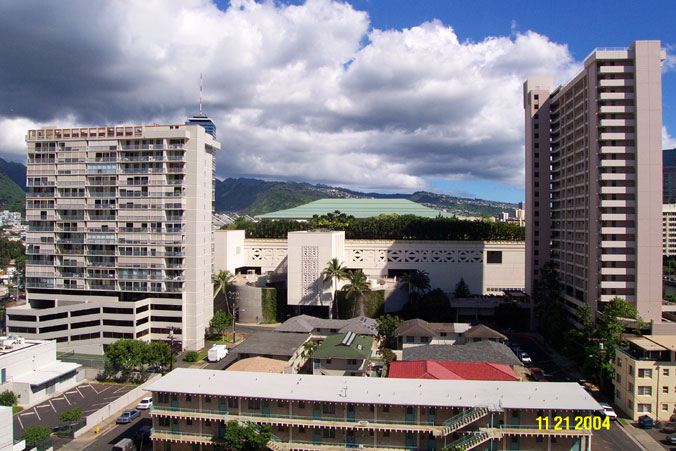 View to the Hawaii Convention Center, from the Walkway.
View to Waikiki, over the Ala Wai Canal.
To see the pictures on the First Page, click here First Page
Click here to return: Click here to go: Home Page
All information contained herein is obtained from sources deemed reliable, no representation is made as to the accuracy thereof, & it is submitted subject to errors, omissions, changes & withdrawals without notice.
---
Walt Flood Realty * Phone: 808-922-1659 * Fax: (1-877) 358-5637 (Toll Free)
1750 Kalakaua Ave., Suite 103, Honolulu, HI 96826-3795
E-mail: WaltFlood[at]Hawaii.rr.com
---
Privacy Policy/Terms of Service
Copyright 2000, 2001, 2002, 2003, 2004.
You must obtain written permission to use any content, including pictures, on these pages.