Click this image for more pictures.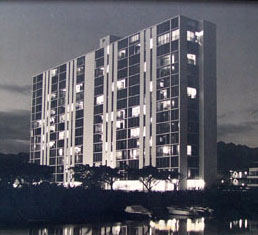 Sold/Closed, as of 02/14/2005
ATKINSON TOWERS, Inc.
Co-Op Apartment #1103
Two Bedrooms & One Bathroom
Sold Price: $268,000.00 (Fee Simple)
(Honolulu Board of Realtors MLS: 2416832)
This 15 story high rise building is a block to the Hawaii State Convention Center; across the street from the Ala Moana Hotel; behind Yacht Harbor Towers and the YMCA complex; one block to the Ala Moana Shopping Center, steps to Ala Moana Beach Park (Magic Island), and at the entrance to Waikiki.
This 11th floor apartment offers a large enclosed Lanai with a view to the swimming pool & views of the Ocean/Harbor/Canal.
The apartment is partially furnished (appliances). There is a clothes washer, & a dryer in the apartment, wall-to-wall carpets, and tile flooring in the Kitchen and in the Bathroom.
Atkinson Towers is a secured entry building, with two secured elevators, and a Maintenance Manager. The project has a pool (not heated), building meeting room, individual storage/lockers (20 cu.ft.), and cable TV.
Click here: Financing Options to read the details of financing your purchase (80% Fixed, 80% 5/1ARM, or 80% 3/1ARM). Plus, a second page with all the "estimated" costs associated with obtaining a mortgage and the Escrow closing costs.
Click here: Atkinson Towers Disclosure to read the details of the leasehold nature of the 10,500 sq.ft. parking lot, possible fee conversion, what happens if the fee is not obtained, or the leasehold is not extended, and/or the effects of the surrender clause.
Atkinson Towers, Inc. is a Residential Cooperative, not a Condominium. The Buyers have to be Owner Residents (NOT Landlords/Investors) and have to be approved by the Board of Directors.
Click here: Cooperative versus Condo to read the a New York City Attorney's explanation of the cooperative form of ownership, versus the condominium form of real estate ownership.
NOTE: This co-op has a policy of NO pets. Which means no dogs, cats, pigs, or even any birds which squawk. Pets are not even allow to visit, but a Seeing Eye Dog, with their master, are the exception. Here is a link the to Hawaiian Humane Society, with a list of Condos or Apartments which may allow pets.
Click here for MULTIPLE PICTURES taken from inside the apartment #1103, a view of the pool, the building, and the lobby.
Interior Area: 816 sq.ft. / Lanai: enclosed. / Total Area: 816 sq.ft.
Maintenance Fee: $186. / Property Taxes: $28. / Parking Stall Rent: $42.
Total Monthly Fees/Charges: $259.24 (not including electric service)
Bedrooms: Two / Bathrooms: One / Parking Stall #104 is included
---
Your Host: Walter Flood, Realtor, PB
Walt Flood Realty * Phone: 808-922-1659 * Fax: 1-877-358-5637 (Toll Free)
1750 Kalakaua Ave., Suite 103, Honolulu, HI 96826-3795
E-mail: WaltFlood@Hawaii.rr.com * Website: WaltFloodRealty.com/
---
All information contained herein is obtained from sources deemed reliable, no representation is made as to the accuracy thereof, & it is submitted subject to errors, omissions, changes & withdrawals without notice.