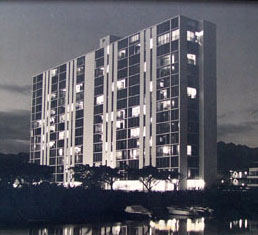 FOR SALE
ATKINSON TOWERS
Co-Op Apartment #1402
One Bedroom & One Bathroom
Price: $210,000.00 (Fee Simple)
MLS Number: 2400790

This 15 story high rise building is a block to the Hawaii State Convention Center; across the street from the Ala Moana Hotel; behind Yacht Harbor Towers and the YMCA complex; one block to the Ala Moana Shopping Center, steps to Ala Moana Beach Park (Magic Island), and at the entrance to Waikiki.
This 14th floor apartment offers a large enclosed Lanai with partial views to the Pacific Ocean, Boat Harbour, Ala Wai Canal, and to EWA/City.
The apartment is partially furnished (appliances), and has been renovated. There is a new washer, & a dryer in the apartment, wall-to-wall carpets, and ceramic tile flooring in the entry way & in the enclosed Lanai.
Note: The apartment was orginally configured as a 2-bedroom, and with the Board's approval the new Owner can install a wall & a door, to use the large living area for the second bedroom - again.
Atkinson Towers is a secured entry building, with two secured elevators, and a Maintenance Manager. The project has a pool, building meeting room, individual storage/lockers (20 sq.ft.), and cable TV. No Pets are allowed, with the exception of certified seeing-eye dogs.
Atkinson Towers, Inc. is a Residential Cooperative, not a Condominium. The Buyer has to be approved by the Board of Directors.
Interior Area: 816 sq. ft. / Total Area: 816 sq. ft.
Maintenance Fee: $183. / Property Taxes: $28. / Parking Stall Lease Rent: $42.
Total Monthly Fees/Charges: $253.00 (Not including HECO service)
Bedrooms: One / Bathrooms: One / Parking: One Space #45
---
Your Host: Walter Flood, Realtor, PB
Walt Flood Realty * Phone: 808-922-1659 * Fax: 877-358-5637 (Toll Free)
1750 Kalakaua Ave., Suite 103, Honolulu, HI 96826-3795
E-mail: WaltFlood@hawaii.rr.com * Website: WaltFloodRealty.com/
---
All information contained herein is obtained from sources deemed reliable, no representation is made as to the accuracy thereof, & it is submitted subject to errors, omissions, changes & withdrawals without notice.