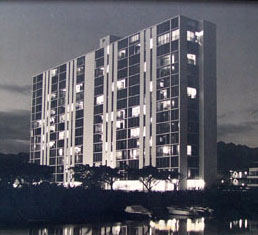 "SOLD" as of Feb. 22, 2008
ATKINSON TOWERS CONDOMINIUM
Apartment #602
One Bedroom & One Bathroom
Selling Price: $340,000.00 (Fee Simple)
(Honolulu Board of Realtors MLS 2719183: )
This 15 story high rise building is a block to the Hawaii State Convention Center; across the street from the Ala Moana Hotel; behind Yacht Harbor Towers and the YMCA complex; one block to the Ala Moana Shopping Center, steps to Ala Moana Beach Park (Magic Island), and at the entrance to Waikiki.
The 6th floor apartment offers a large interior Lanai with partial views to the Ala Wai Canal, and to EWA/City.
Note: The interior space can be converted into a second bedroom, and if you were to enclose the Lanai, the total interior area would be 858 sq.ft.
The apartment is partially furnished (appliances), and has been renovated. There is a new washer, dishwasher & an older dryer in the apartment, cermatic tile from the entry way, and carpet thoughout the apartment.
Atkinson Towers is a secured entry building, with two secured elevators, and a Maintenance Manager. The project has a pool, building meeting room, individual storage/lockers, and cable TV. No Pets are allowed, with the exception of certified seeing-eye dogs.
Atkinson Towers, Inc. is in the process of converting to a Condominium, after 46 years as a Co-operative project. This conversion will happen in escrow, at the Seller's expense.
Conventional Financing is available, under certain terms & conditions (ask the Realtor).
Click here: Atkinson Towers Disclosure to read the details of the leasehold nature of the 10,500 sq.ft. parking lot, possible fee conversion, what happens if the fee is not obtained, or the leasehold is not extended, and/or the effects of the surrender clause.
Generic DROA, as of June 2006. Twelve pages of the Hawaii Association of Realtors DROA (important to read if you are considering an Offer to Buy - Sales Contract.)
---
Interior Area: 740 sq. ft. / Lanai area: 118 sq.ft. / Total Area: 858 sq.ft.
Maintenance Fee: $419.89. / Property Taxes: Included. / Char Parking Lot Lease Rent: $42.02.
Total Monthly Fees/Charges: $461.91 (NOT including electric service)
Bedroom: One / Bathrooms: One / Open Parking Stall #86
---
Your Host: Walter Flood, Realtor, PB
Walt Flood Realty * Phone: 808-922-1659 * Fax: 1-866-912-8984 (Toll Free)
1750 Kalakaua Ave., Suite 103, Honolulu, HI 96826-3795
E-mail: WaltFlood@hawaii.rr.com * Website: WaltFloodRealty.com/
---