Waikiki gay REALTY
ATKINSON TOWERS
Condo #1108 (Two Bedrooms & One Bath)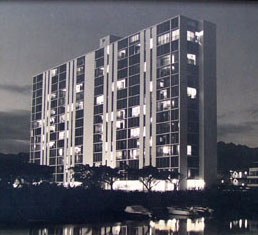 JUST RENTED (as of March 1, 2017)
Lease Rent: $2,250.00 (per month)
Stunning Ocean, Ala Wai Canal, City and Mountain Views!
Notice/Update: This will be the first time, in a long time, that a High Floor, End Unit with unobstructed Ocean, Harbor and Canal views, is For Rent.
This 15 story high rise building is a block to the Hawaii State Convention Center; across the street from the Ala Moana Hotel; behind Yacht Harbor Towers and the YMCA complex; one block to the Ala Moana Shopping Center, Ala Moana Beach Park (Magic Island), Pacific Ocean, and at the entrance to Waikiki.
This 11th floor Condo apartment has a large enclosed Lanai. There are Two Bedrooms, a Studio and One Bathroom. Note: The Studio could be a Office, or a third Bedroom (145 sq.ft).
The apartment is partially furnished (appliances). There is a Washer and Dryer in the apartment. The rooms have marble/laminate/tile floors.
Atkinson Towers is a secured building, with two elevators, and there is a Maintenance Manager. There are Individual Owners' assigned storage/lockers on each floor. Basic cable TV is included in the Maintenance Fees, (high-speed internet is available). No Pets are allowed, with the exception of certified seeing-eye dogs.
---
Frequntly Asked Questions:
1. What about the Parking Stalls? There are three (3) options:

1. The Tenant can rent a stall on the lot immetially next Atkinson Towers at $150.00/month.

2. The Tenant can rent a covered parking stall at Yacht Harbor Towers at $125.00/month.

3. The Tenant can wait for a parking stall on the Atkinson Towers' lot at $125.00/month.

Disclosure: There is no guarantee that parking stalls at Yacht Harbor Towers will be available for long-term and the monthly rent can be increased.


2. What about air conditioning? It is possible to install A/C, with portable window units, with AOAU approval.
---
House Rules(40 pages).
FAQ For Rent.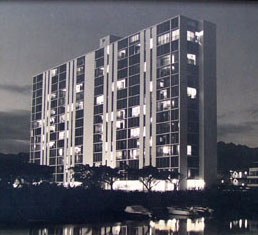 Click this image for multiple pictures.
Click here for Multiple Picturestaken from inside #1108, a view of the building, views to the Ocean and to Waikiki.
---
---
The Rental Agent: Waikiki gay, REALTOR ®, PB, DIR, SRES, MRP, RSPS
Waikiki gay Realty ® * Phone: 808-922-1659 * USA & Canada Phone: 1-855-922-2462 (Toll Free)
2092 Kuhio Ave., Home Office, Honolulu, HI 96815-2134
eMail: Copy & Paste this Waikikigay@gmail.com into your eMail server.
---
Privacy Policy/Terms of Service
Copyright 2000, 2001, 2002, 2003, 2004, 2005, 2006, 2007, 2008, 2009, 2010, 2011, 2012, 2013, 2014, 2015, 2016, 2017.
You must obtain written permission to use any content, including pictures, on these pages.
---