WALT FLOOD REALTY
ATKINSON TOWERS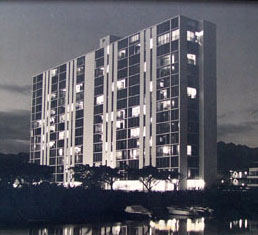 Click this image for multiple pictures.
"FOR SALE"
Condominium #1003 (Two Bedrooms & One Bath)
Back on the Market as of Jan. 6, 2016
(Honolulu Board of Realtors MLS: 201600279)
Asking Price: $335,000.00 (Fee Simple)
Notice/Update: The Atkinson Towers Parking situation has been solved. This Condo #1003 has Parking Stall #2 assigned, as of Jan. 1, 2017. Rent is fixed for the first Five (5) years and for a term of Fifty (50) years.
This 15 story high rise building is a block to the Hawaii State Convention Center; across the street from the Ala Moana Hotel; behind Yacht Harbor Towers and the YMCA complex; one block to the Ala Moana Shopping Center, Ala Moana Beach Park (Magic Island), Pacific Ocean, and at the entrance to Waikiki.
This 10th floor apartment has a large enclosed Lanai. There are Two Bedrooms and One Bathroom.
The apartment is partially furnished (appliances). There is a Washer and Dryer in the apartment. The rooms have laminate/tile floors.
Atkinson Towers is a secured building, with two elevators, and there is a Maintenance Manager. The project has a pool (not heated), scheduled to be removed during this year of 2016, to created twelve (12) addtional parking stalls. There are Individual Owners' assigned storage/lockers on each floor. Basic cable TV is included in the Maintenance Fees, (high-speed internet is available). No Pets are allowed, with the exception of certified seeing-eye dogs.
---
Frequntly Asked Questions:
1. Is Atkinson Towers a Cooperative or a Condominium? 98%+ of the units have already been converted to Condominium, but 4 of the units are still known at Co-op, so the project is known as ″Mixed-use″ building. Unit #1003 will be converted into a Condominium - in Escrow, at no cost to the Buyer.
2. What about the views? The swimming pool and the Ala Wai Canal can be seen from the Lanai. The mountains, surrounding buildings and the Ocean can be seen from the Living Room.
3. What about financing? Credit Unions, Bank of America, Wells Fargo and most of the Mainland Banks/Lenders will NOT write a mortgage on Atkinson Towers, because it's a Mixed-use project (Coops and Condos). NEW - Announcement: Sandalwood Home Loans will write a conventional mortgage with 10%-20% down payment for 30-years fixed (Owner Occupants). Bank of Hawaii, Central Pacific Bank and First Hawaiian Bank will write a ″Portfolio″ loan at 20%-30% down for Owner Occupants/Investors.
4. NOT. No Seller Financing at this time.
5. Future? There is a good chance, over the next 2-3 years, all the Co-op stockholders will convert to Condominium, and the building will NOT be a mixed-use project. All the financing will go back to Conventional (FHA, etc.).
6. What have been the sales in Atkinson Towers as comps? Unit #301 at $300K; Unit #1605 at $330K; Unit #803 at $330K; Unit #606 at $315K; Unit #807 at $320K; Unit #1605 at $330K; and Unit #1502 at $339K.
7. What are included in the Maintenance Fees? Building/Flood/Fire insurance, Maintenance Manager and staff, water, electric, sewage. elevator maintenance and waste/trash removable contracts, and basic TV cable. The electricity (HECO) is paid by the Owner or Tenant for unit #1003.
8. What about air conditioning? It is possible to install A/C, with a split system, and/or portable window units, with AOAU approval.
---
Interior Area: 644 sq.ft. Plus: enclosed Lanai: 126 sq.ft.: Total 792 sq.ft.
Maintenance Fee: $526.73 / Other Monthly Fees (Parking Stall Lease Rent): $46.22
Total Monthly Fees/Charges: $572.95 (Year 2015), / Plus: Property Taxes: $85.00/month
Bedrooms: Two / Bathrooms: One / Open Parking Stall #67
---
Parking Stalls Disclosure Statement. (PDF Format) Current information about the Parking Stalls Lottery and the Lease Rent for Fifty (50) years.)
Click here: How To Buy Unit #1003. Read the step by step on making an offer (Purchase Contract) to buy Condo Unit #1003.
Purchase Contract: Sample as of June 2015. Fourteen (14) pages of the Hawaii Association of Realtors - Sales Contract (important to read if you are considering an Offer to Buy.)
Click here for Multiple Pictures taken from inside the apartment #1003, a view of the pool, the building, views to EWA, Ocean and to Waikiki. (MLS: 201600279)
---
---
Your Host: Walter Flood, REALTOR ®, PB, DIR, SRES, MRP, RSPS
Walt Flood, REALTOR ® * Phone: 808-922-1659 * USA & Canada Phone: 1-855-922-2462 (Toll Free)
2092 Kuhio Ave., Home Office, Honolulu, HI 96815-2134
eMail: Copy & Paste this WaltFlood@gmail.com into your eMail server.
---
Privacy Policy/Terms of Service
Copyright 2000, 2001, 2002, 2003, 2004, 2005, 2006, 2007, 2008, 2009, 2010, 2011, 2012, 2013, 2014, 2015, 2016.
You must obtain written permission to use any content, including pictures, on these pages.
---